Frequently Asked Questions
Where's the "KC"?
Modern flag designs standards suggest never using words or letters on a flag, according to NAVA.org. We adopted their guidance for the flag design because we want KC to have a world class flag.

From NAVA: "Words defeat the purpose: why not just write "U.S.A." on a flag? A flag is a graphic symbol. Lettering is nearly impossible to read from a distance, hard to sew, and difficult to reduce to lapel–pin size. Words are not reversible—this forces double– or triple-thickness fabric. Flags flap. Flags drape. Flags must be seen from a distance and from their opposite side. Under these circumstances, only simple designs make effective flags."
What does KC Flag symbolize?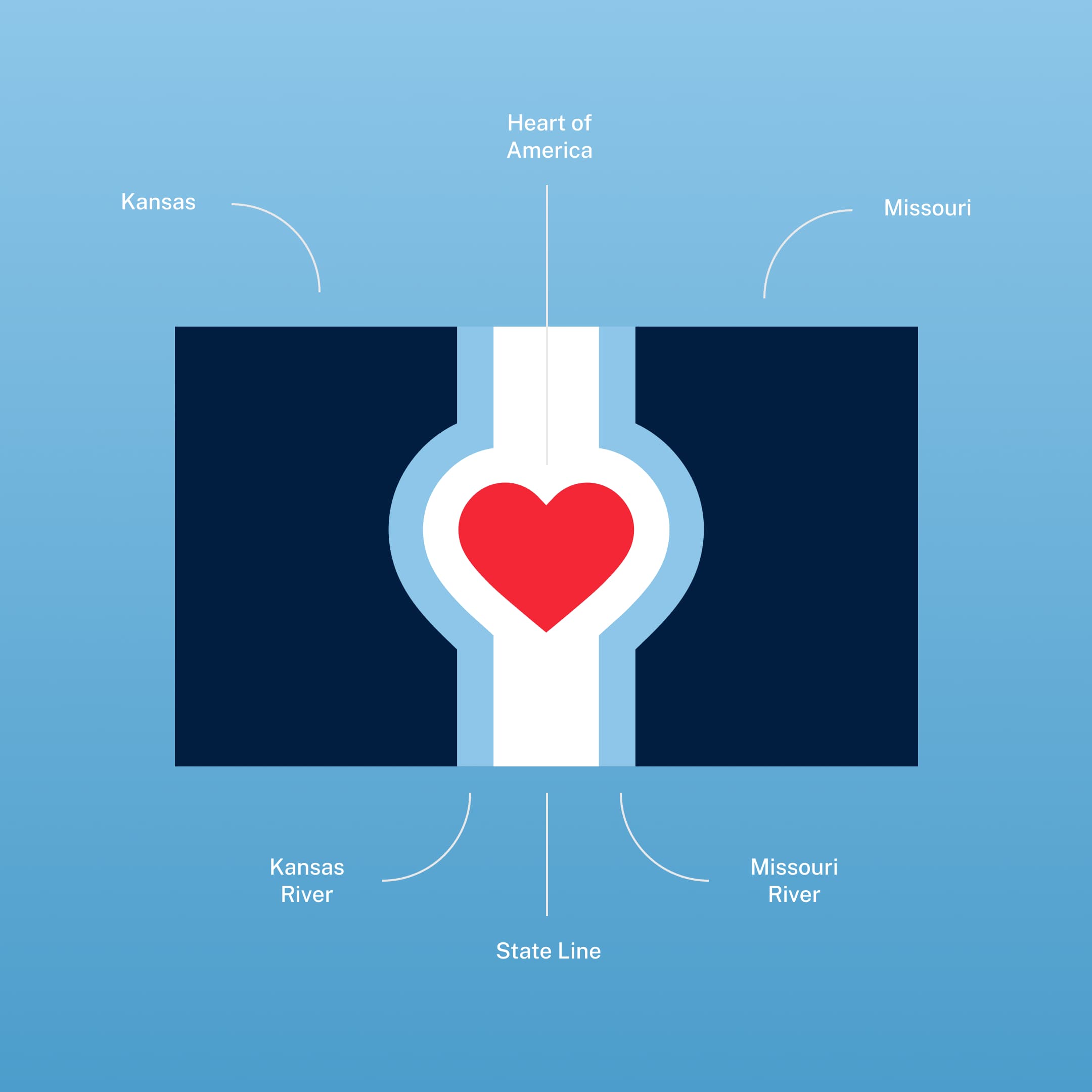 ⚪ White symbolizes the state line that gives KC the unique identity as a two-state city.

❤️ Red symbolizes KC as the heart of America and its residents who make it great.

💧 Light blue represents the Kansas and Missouri rivers and our many fountains.

🔵 Navy represents the states of Kansas and Missouri that contain KC.
Who made the KC Flag?
The design team included several Kansas Citians: Chris Jones, Mark Sudermann, Joe Spirk, Jeremy Roberts, Caleb Overman, JD Nolen, Justin Wieners, Micah Fritz and Christine Pivovar. Chris Jones led the design effort and maintains the KC Flag website and flag store.
How did the design process work?
Starting in the winter of 2019, a team of Kansas Citians worked on the KC Flag design. During the design process, they collaborating with hundreds of Kansas Citians for continuous feedback. The team iterated and tested designs until discovering a design that was popular with residents and contained meaningful symbolism for KC. The final KC Flag design was unveiled to the public on June 19th, 2020.
Is the KC Flag official?
No. The KC Flag is a grassroots, public good project, started by Kansas Citians, for all Kansas Citians. KC Flag is specifically designed to includes all cities, counties and both states within the Kansas City region.
Who owns the KC Flag?
Everyone. KC Flag is a public good project free for all to use. KC Flag is licensed under Creative Commons Zero. This means you may copy, modify, distribute and use the design for free, including commercial purposes. Get the artwork here.